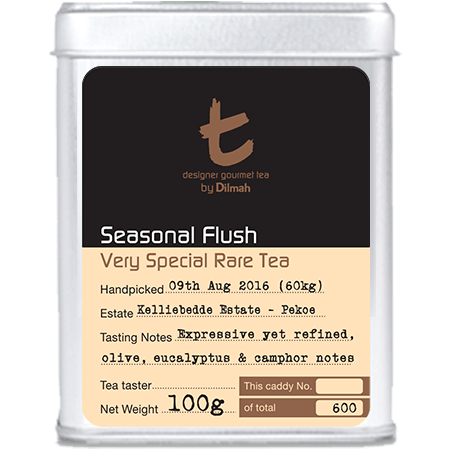 t-Series Designer Gourmet Tea by Dilmah
Uva Region Kelliebedde Estate Pekoe 2016
Fine Tea comes from the elegant harmony of heaven, earth and man. It is the confluence of sunshine, rainfall, wind and temperature that craft flavour, fragrance, texture and character in tea whilst the soil adds its own influence and finally it is the work of the Teamaker that nurtures all that Nature has done in the leaf to respectfully draw out each dimension for our pleasurable appreciation. Our Seasonal Flush is the pinnacle of each, for it is made when that confluence of natural factors produces an especially beautiful and rare combination of taste and aroma that represents a fleeting moment, a particular place in which the tea is grown with an uniqueness that is the perfect expression of terroir in tea.

Kelliebedde Estate Pekoe
Handpicked 09th August 2016 (batch size 60kg)
Shotty leaf with dark olive hues create a bright, golden orange brew with seasonal brilliance caused by a week of perfect temperatures and dry condition prior to handpicking. The fragrance is reminiscent of a herb garden with the addition of eucalyptus and camphor. Expressive on the palate, yet maintaining finesse with citrus, green olive and herbaceous notes in elegant balance.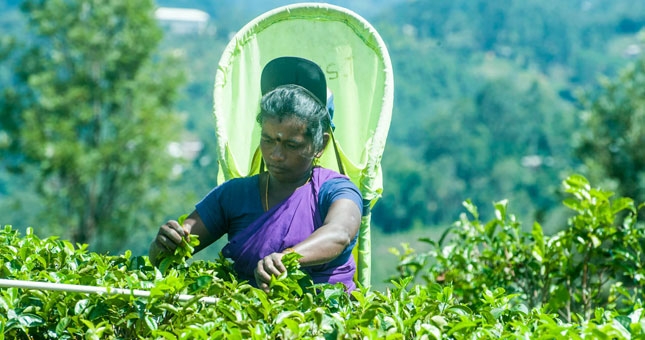 Handpicking
The leaf is plucked by highly skilled tea pickers, early in the morning, when the cell content of the leaf is at its mellowest, before the harsh upland sun sets in motion the chemical processes in the leaf. The plucking takes place at that time of the year when  temperatures are at their lowest , and early morning frost not an uncommon sight in the plantation.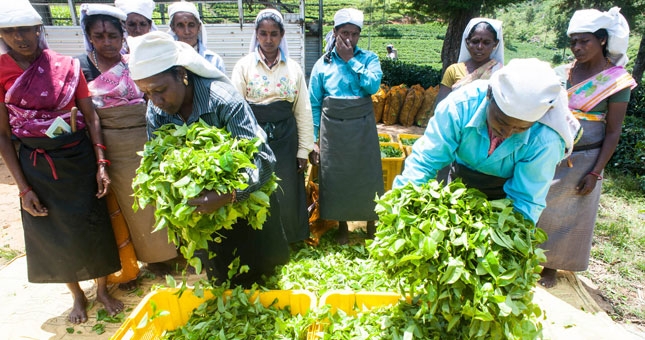 Weighing Leaf
The plucked leaf is weighed, picked over and gently packed in to plastic crates to protect the leaf .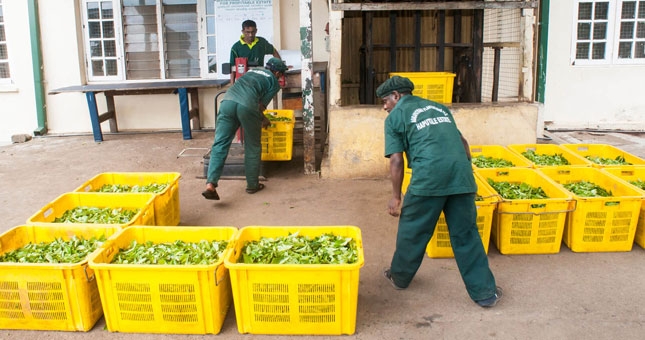 Arrival Of Leaf
Green leaf arriving at the Tea Factory; the handpicked leaves are sorted again to ensure that they consist only of two leaves and bud.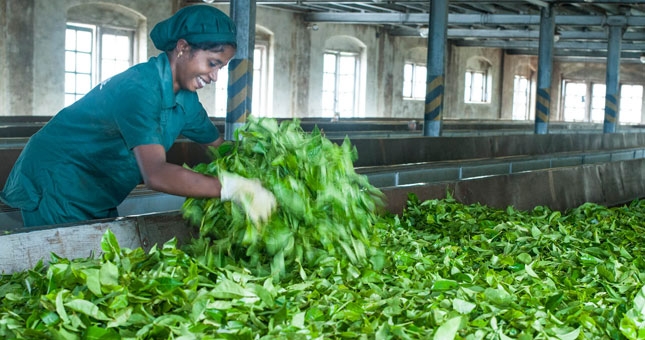 Withering
When tea leaves are plucked from the bushes, the moisture content is about 75%, and is then reduced to approximately 45%. The fresh leaf is spread out on withering troughs about a foot deep and a flow of cool air helps reduce moisture. This process can last from 8 to 18 hours depending on weather conditions.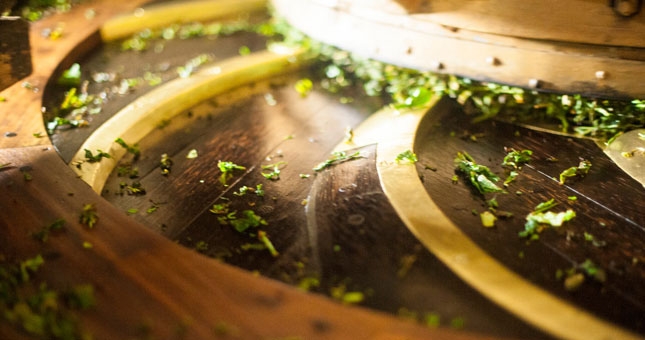 Rolling
Rolling of the withered leaf was perfected over centuries, a process which brings out flavour in tea. Rolling assists in establishing proper conditions for enzymatic oxidisation of the flavanols by atmospheric oxygen. This is achieved by disruption of cell structure which facilitates enzyme substrate contact.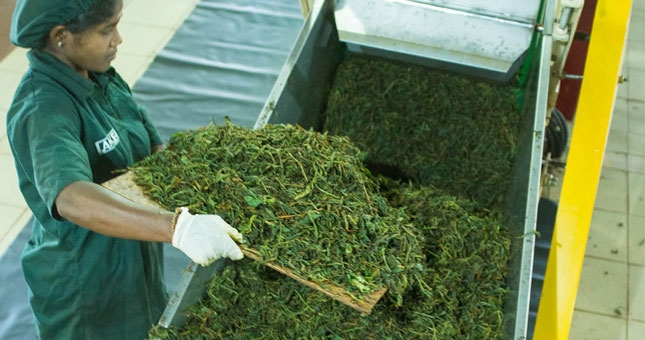 Roll-Breaking
Roll breaking has two primary objectives. To remove the twisted leaf off the rolled shoots that clogs and impedes circulation, and to facilitate further twisting action on the large leaf. Additionally, it also cools the leaf which would have risen in temperature during the process of rolling.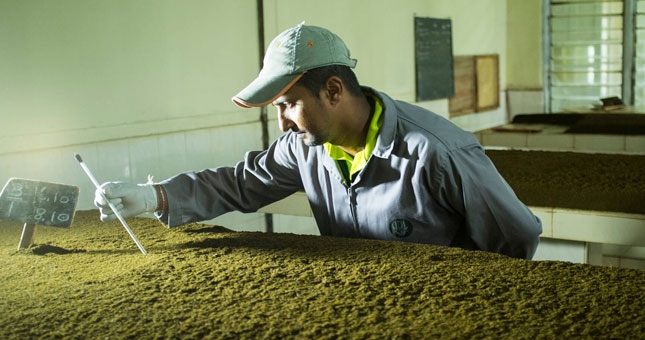 Fermentation
Fermentation of the leaf to allow conversion of catechins to theaflavins & thearubigins and flavour to develop. The major reaction during fermentation is the conversion of catechins (flavonols), to what is known as theaflavins and thearubigins, dimeric and polymeric compounds, which are mainly responsible for the taste, character and health benefits of black tea.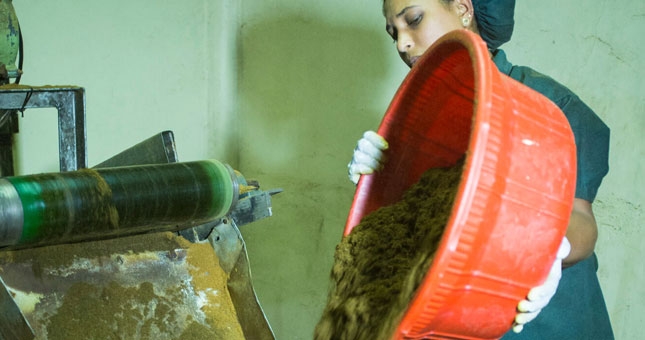 Firing & Baking
During this process, hot air is passed over the tea leaves to deactivate fermenting enzymes. Many organo-chemical processes are accelerated during this process, as are the enzymatic reactions before thermal inactivation. Firing also reduces the moisture level to 2-3%. This is critical as incomplete inactivation can cause accelerated deterioration of quality.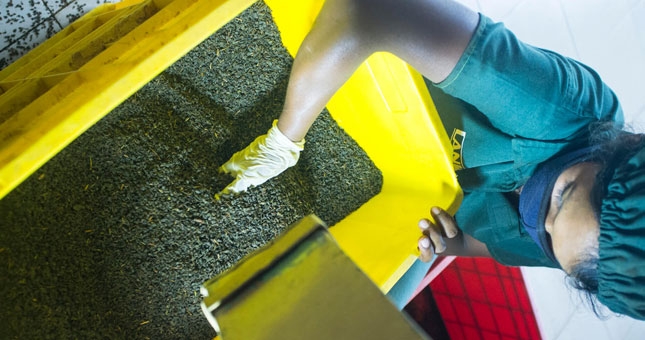 Sifting
Baked tea is sorted into different grades by passing them over a series of vibrating screens of different mesh sizes - Electrostatically charged rollers preferentially attract stalk and fiber to remove them from the tea.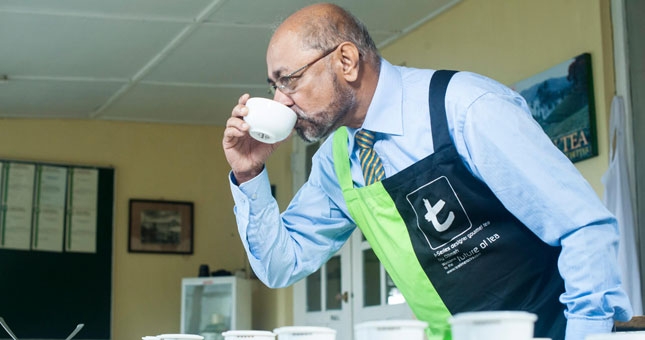 Tasting
Dilmah Taster Gunasiri tasting the tea to assess its strength, flavour, aroma, and appearance.