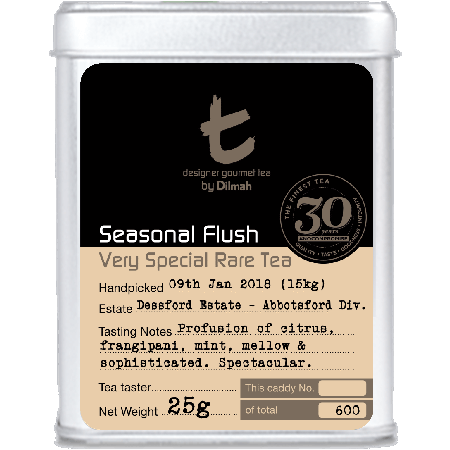 t-Series Designer Gourmet Tea by Dilmah
Dimbula Region Dessford Estate 1871 Original Planting
Dessford Estate
Dessford Estate is located on the western slopes of the glorious Dimbula valley. It belongs to the agro-climatic district of Talawakelle/ Lindula which counts between 192 to 205 wet days annually. The estate has four divisions with a workforce of 811, and a total extent of 433.99 hectares at an elevation of 1,385 metres. Of this, tea is grown in 333.54 hectares. Dessford boasts an annual production capacity of over 600,000 kilograms of western high grown black tea.
Dessford Estate 1871 Original Planting
If ever there was a tea that could be called spectacular, this is it. Made from the bud and first leaf of Camellia sinensis tea plants that were originally planted in 1871, four years after pioneer Ceylon Tea planter James Taylor first planted the teas that would form the world's most famous tea, this is a regal tea. On the eye, silvery and coppery buds amidst dark brown leaf, which together brew a supremely elegant tea. A beautiful transformation of the infused leaf into gentle olive, amber, and brown shades.
The aroma is sublime, like a rosette of spring flowers - it is wonderfully herbal with floral highlights and combines a mildly raw, grassy note and cedar that is typical of fresh leaf in fermentation, with soft floral fragrance. Ceylon Tea planter A. M. Ferguson planted this field using the original and slow growing seedling tea which gives this tea its unique character.
The pale golden brew is aromatic, light, gently astringent and complex. It offers a taste of spring in the mountains, with mild citrus, frangipani and mint supported by fruit notes. The initially floral tea becomes fleetingly mellow and evolves to a delicately sweet finish. This is a tea with a level of sophistication and intricacy that is rare.
It is the result of the bright and cloudless mornings that the Dimbula valley experienced during January and February, the cool nights and light afternoon showers. It's nature has its roots in the ancient variety of Camellia sinensis that it is harvested from, the biodiversity that surrounds the field - a pristine natural environment - and the meticulous hand picking.
This tea needs care in its preparation, with spring water having total dissolved solids (TDS) below 100 and pH of 6-6.5. It should be brewed in water at 85-90 degrees centigrade for 5 minutes and tasted ideally at a temperature of no less than 60 degrees. As the tea cools its character changes, becoming more herbal, and less astringent.
The result of a fleeting climatic phenomenon where wind, sunshine and the terroir of the land join hands to produce conditions that are conducive for this creation process, Seasonal Flush teas are extremely rare and unique. Dry winds that fan the valleys and slopes, supported by chilly nights and bright, dry days with infrequent light afternoon showers, cause flavour in the leaves to become concentrated as the tea plant undergoes stress and prepares for drought. The ten days preceding the Dimbula Seasonal Flush showed a constant difference between the temperature during the day and night; between 27.8°C – 12.2°C. That combination offers the perfect conditioning for tea leaves to produce 'seasonal character'.
Our Seasonal Flush Teas are handpicked, handmade and then carefully and quickly handpacked so we can protect their freshness, unique flavour and goodness.